THIS IS VOXFLOR COMMITMENT
When we talk about sustainability, choosing the right carpet material is a crucial factor in both your office and the environment.
Design and aesthetics are important, however, selecting a sustainable fiber, backing, and tackifier for your carpet are just as imperative. What makes the material 'sustainable' and 'green'? The answer is actually pretty straightforward. Eco-friendly materials are renewable, non-toxic to humans, and minimally impact the environment at the point of production and disposal.
Sustainability is the key to our future on this planet. Being sustainable will contribute to a better World and economy in years to come. VOXFLOR is committed to working in an environmentally sustainable manner, so to protect the health and safety of both ourselves and the public.

GreenWorks™ concept was developed by VOXFLOR in order to care for the people and the environment in the widest terms available to us at this time. Our commitment to environmental protection does not end only with the concept of recycling. We are reaching much further beyond recycling in an effort to reduce our company's impact on the environment.   GreenWorks™ is a concept that helps us to achieve the goal of full sustainability while we operate our facilities by focusing on environmentally friendly products, use of recycled packaging, reducing waste to landfill, reducing energy consumption and water usage, use of alternative energy sources,  recycling carpet into new products, donating carpet for charitable re-use.

Greenpad™ carpet is made with DuPont™ Sorona®, a renewably sourced fiber. Working closely with DuPont™, VOXFLR's Greenpad™ carpet stands for environmental protection, permanent stain resistance, and crush resistance. Our innovation and design are driven by our inspirations from nature. Greenpad™ carpet collection will bring a green dream into the modern commercial office.
To achieve leadership in environmental protection, VOXFLOR is committed to reducing the negative impact on the environment, that occurs in product development and manufacturing operations. That's how our GreenWorks™ concept was born.
GreenWorks™ is a commitment, that covers all the sectors of our carpet tiles production from innovation, design, manufacturing, and stewardship. It is a concept that helps us reach much further into the idea of full sustainability by transforming our carpet production to a much "Greener" and environmentally friendly stage. With GreenWorks™ as our policy, VOXFLOR has developed a higher level of sustainability by focusing on optimizing and developing new sustainable methods in our production. We achieve that by using more "Green" products, recycled packaging, alternative energy sources, carpet recycling, waste reduction, reduced energy consumption, and less use of water. By integrating the GreenWorks™ concept as our company's policy and undertaken by all of our staff, we commit to creating a greener environment for our planet's future generations.
VOXFLOR has identified the following elements, which will demonstrate the factors that determine a sustainable leadership.

EcoAce-Bac and EcoAce-Bac Pro are lightweight, breathable, PVC-free backing systems.
Generated from 100% recycled plastic bottles and certified with the Cradle to Cradle label, the product does not pollute, does not consume the Earth's resources and after use it becomes part of natural cycles. Choosing from 2 different levels of cushion allows one to meet any specific underfoot comfort requirements.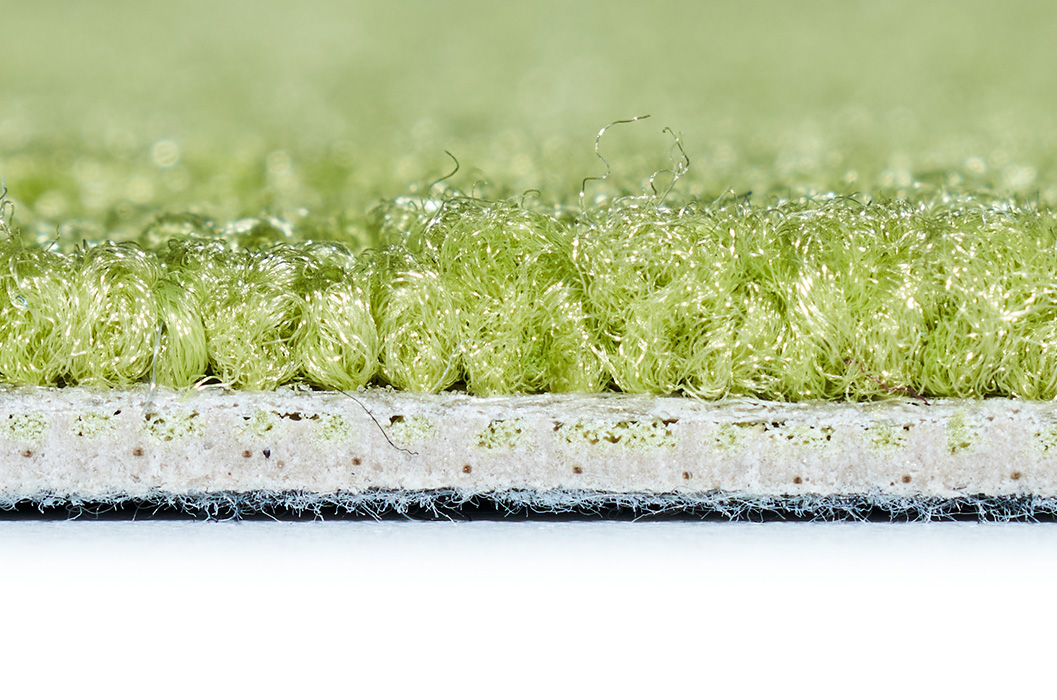 With advanced craft and cooperation from the downstream industry, VOXFLOR increased the recycling rate of its products.
VOXFLOR is committed to reducing the environmental footprint of its carpets. For us here at VOXFLOR nothing is wasted. Our GreenWorks™ system ensures the recycling process works. Moreover, since 2017, we've started a collaboration with Aquafil and its ECONYL 100% recycled nylon, creating a special collection out of it, HUB, which includes 5 different and sustainable products.  

Imported from the UK, the VOXFLOR carpet tile tackifier is a solvent-free acrylic polymer emulsion adhesive that contains a rust inhibitor. It is designed to provide a permanently tacky film that prevents 'loose-lay' carpet tiles from moving under normal traffic but enables them to be lifted and replaced easily when required. It is non-flammable, is protected against biodegradation, is suitable for use over normal underfloor heating installations, is resistant to plasticizer migration, and will withstand normal wet cleaning techniques. It is VOC-free and not harmful to health.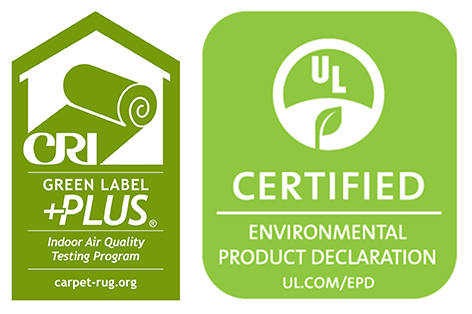 The Carpet and Rug Institute (CRI) provides further assurance of carpets' role in a healthy indoor environment with its Green Label and Green Label Plus certification programs. The green label program is a testing and certification system designed to identify carpets, carpet backings, cushions, and adhesives that emit low VOCs( Volatile Organic Chemicals). CRI GLP certification results from our exhaustive efforts to eliminate harmful VOCs in all aspects of our product design and manufacturing process. VOXFLOR is committed to conforming to advances in testing technology as it arises.
The EPD certification guarantees transparent, verified and comparable information about the life-cycle environmental impact of every VOXFLOR carpet tile.